High Lane to Poynton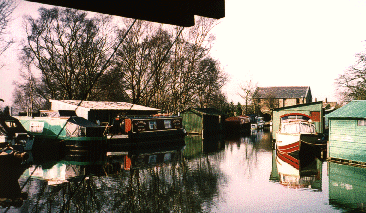 High Lane is built around the A6 trunk road which was one of the main routes from London to the provinces until the motorway age. The canal crosses under the road through High Lane Bridge, no. 11, so wide that it almost qualifies as a tunnel! There is good mooring on both sides of this bridge.
Within a hundred metres the High Lane Arm leads off on the towing path side. Built to serve the coal pits in the area, this is now a private arm providing access to the North Cheshire Cruising Club (NCCC) headquarters located in the Macclesfield Canal Company warehouse.
The arm is also noted for the unique boat 'garages', complete with up and over doors, where the club members are able to moor their boats under cover.
We start to notice several features special to this canal; lengths of fairly straight water, deep cuttings, high embankments and terrific views over the Cheshire plain.
After crossing the embankment over the railway and Bollinhurst Brook, also known as Ladybrook Valley, to which there is public access, we see the first of the flat deck bridges, Bullock's, no. 13. These were built this way because of the problem of subsidence resulting from coal mining; it was easy to raise them when needed. There are many relics from the East Cheshire coal industry which had more pits to the square mile than almost anywhere else in the country.
In the next few miles we see several large marinas, the first as we approach Higher Poynton. The upper levels of the Peak Forest and Macclesfield canals provide more than 23 miles of lock free cruising, making this a very popular length for weekend cruisers with the highest density of boats on any canal.
---
High Lane Arm - The only proper arm off the Macclesfield Canal, this leads to the Macclesfield Canal Company's wharf and warehouse which remains there today and is used as their clubhouse by the North Cheshire Cruising Club. The main arm once had a second arm, since filled in, which turned left at the point where the remaining arm bends to the right. The arm is famed for the boat garages lining its banks in which NCCC members keep their boats.
Coal mines - There were a couple of coal mines close by which used the arm for loading boats with coal.
North Cheshire Cruising Club (NCCC) - The oldest established narrow canal boat club in the country, the NCCC was formed in 1943. Finding the arm vacant and unused the new club moved in and occupied a small portion of the wharf. To regularise their position they approached the then owners, LNER - the railway company. I think, rather to the boaters surprise, the LNER were not only happy to have a boat club in the wharf but it would like them to rent the whole site! The club has been going from strength to strength ever since.
Next page - Higher Poynton.