Kent Green
Past Heritage Narrow Boats (01782-785700), Kent Green Bridge, no. 87, provides a good point of access to Mow Cop. However, mooring is not easy hereabouts and it may be better to move on past the site of Lowndes No.5 swivel bridge, no. 88.
Bird in Hand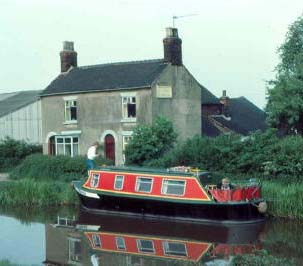 Adjacent to the bridge hole no. 88 stands a little house that used to be the Bird in Hand inn. Superbly kept Worthington ale was brought up from the cellar in enamel jugs by the octogenarians Jack and Emmy Whitaker. This was poured into glasses on the living room table and quaffed by eager drinkers sitting round the walls on old church pews and dining chairs. They don't make 'em like that any more!
Emmy had, at one time, a day job - well a one day a week job actually - she drove the local bus to Nantwich and back. There was a very good reason why she wanted this job because this weekly service was on a Friday and she could do her shopping in Nantwich before taking the return service! She knew how to get paid to do her weekly shop!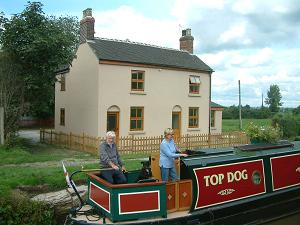 Jack's funeral was held on a bitter winter's day. A small group of friends gathered round the grave to lay him to rest only to discover that the coffin wouldn't fit the grave. A voice was heard from the back, "Just like Jack; cussed to the end!"
The pub was closed and the building went derelict until the mid 2000s when at last it has been rebuilt in its old style as a very nice house. No more a pub though!
Mining
There used to be coal mining activity on the far side of Mow Cop hill and evidence of a tramway can be seen leading away from Morris bridge, no. 89, towards a tunnel through the hill. At bridge 90 there is a row of three lengthmens' cottages, two of them occupied until recent times by retired BW lengthmen who had spent their lives maintaining the Macclesfield canal. The bridge itself was once a swivel bridge but now carries a poor apology of a swinging plank in order to provide access to the footpath on the other side.
Next page - Hall Green.