Scholar Green
Congleton to Hall Green (5 miles)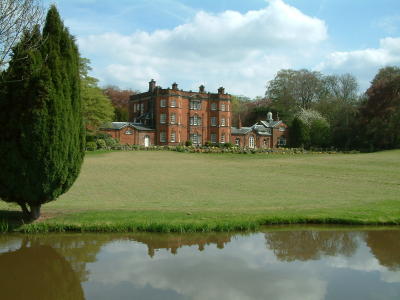 The canal takes a fairly straight course now, running parallel to the last vestiges of Pennine hills in the form of Congleton Edge and Mow Cop (Mow as in cow). To the west we still get views across the Cheshire plain with hills such as Beeston becoming identifiable on the other side. Astbury village lies about a mile west of Peel Lane Bridge, no. 79, and Henshall's Bridge, no. 80, and its fine church, with a separate bell tower, is easily visible from the canal.
The canal has a different feel about it down here. Very pastoral and quiet, less dominated by hills although Mow Cop is only 1½ miles away. The bridges are also made of a different and softer stone - sandstone - which is beginning to succumb to the effects of wind and water. Along to Watery Lane wharf and over the almost invisible aqueduct, through the hamlet at Acker's Crossing by Simpson Bridge, no. 85.
The footpath over Lowndes No.2 Bridge, no. 86, is now accessible from the towing path after some years of being cut off, providing the shortest route to Little Moreton Hall NT (01260-272018). This remarkable and unspoilt moated Tudor house is about one mile away across the fields and well worth the walk.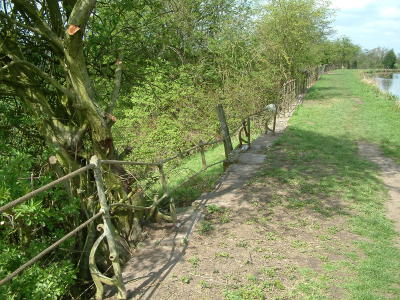 Ramsdell Hall (pictured above) is another fine example of a Cheshire Georgian country house, in this case incorporating the widened canal into the garden with the towing path edge forming a decorated ha-ha (a sunken wall topped by an ornamental fence) so ensuring a delightful view across water for the occupants. The canal society were leaders of a project to refurbish the stonework and the ornamental fence.
Telford's original plan took the canal round the other side of Ramsdell Hall and through a short tunnel. Thank goodness someone saw the benefit of using the waterway to beautify the scene from the hall.
Within half a mile we come to Heritage Narrow Boats (01782-785700) marina and Kent Green Bridge, no. 87.
Extra page - Ramsdell Hall railings
Next page - Kent Green.