Bridge 43, Foden Bank, Gurnett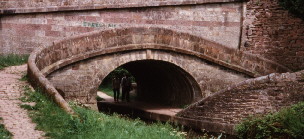 Pictured is one of the six change bridges - a feature for which the Macclesfield Canal is especially well known. Bridge 43, just north of Gurnett aqueduct, Sutton, is actually quite different from the other change bridges - the vehicular crossing is at a much higher level than the foot crossing.
Notice the smooth curves of the stonework, designed to avoid snagging the boat towing rope.