Bridge 57, Bosley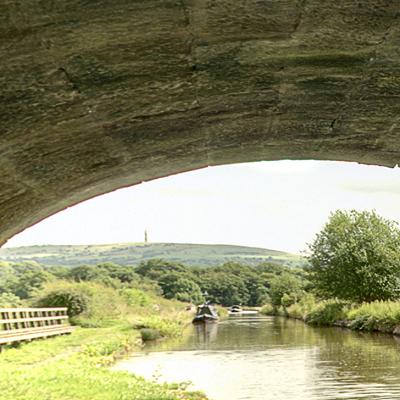 Br 57, Old Drive Lane bridge, is located at the south end of the embankment which takes the canal across the river Dane at Bosley. It carries a public footpath which can be used to get to Bosley village on foot. It is probable that the bridge is on the route of one of the old roads in the district.
This bridge is noted here because we have a fine 360° photograph of it and the adjacent area taken by Bollington photographer Roger Fielding.
Please note that the total picture is 13.5Mb! Once loaded, the picture can be moved around either by holding the left mouse button down while moving the mouse, or by use of the controls on the bottom left of the picture. We recommend that you click on fullscreen display for best viewing. Click on the link ...
360° Bridge 57, Old Driving Lane bridge
(Requires Adobe Flash - sorry if you no longer use that!).